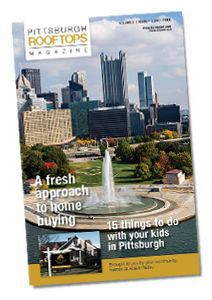 The Pittsburgh region has so much to offer – more than most people know! As real estate professionals serving the communities in and around Pittsburgh, the Acero Realty team created Pittsburgh Rooftops Magazine as a way to highlight all the best aspects of the neighborhoods in which you live, work and play! Look through these pages and reacquaint yourself with the businesses and people you know well, or discover something completely new about this place that you call home.
Produced by Acero and ocreations, a leading Pittsburgh graphic design, branding and web design agency, the goal of this publication is simply to give back to the community by making it easier to locate resources, learn a few simple tips, and find places and things to do in the area. We hope you enjoy our magazine.
This issue of Pittsburgh Rooftops contains valuable information on landscaping, staging your home to sell and getting the most out of open houses, plus 15 fun things to do with your children and family.
Click here to download the complete issue.
There's so much more to share about Pittsburgh's neighborhoods that we plan to continue publishing this magazine to help community members connect with one another and share what makes living in this region so great.
If you would like to have Pittsburgh Rooftops distributed at your local business, contact mschein@acerorealty.com.
15 of Pittsburgh's Top Family-Friendly Activities
Throughout Pittsburgh there are dozens of family-friendly communities that offer close-knit neighborhoods, great schools, endless shopping opportunities and plenty of family-friendly entertainment options to suit everyone. Here are just a few activity options that are top-rated among parents on both sides of Pittsburgh's three rivers.